WEBINAR: AUTISM EI CURRICULUM
Sunny Days is proud to offer the following webinar for
EI Practitioners:
"A Web Based Step-by-Step Curriculum for Early Learners with an Autism Spectrum Disorder"
Presented by:
Dr. Lindsay Hilsen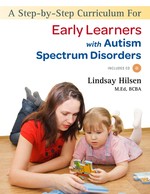 Eligible Hours: 2 Professional Development Hours
Purpose:
This curriculum will equip practitioners, teachers, therapists and parents with a thorough and comprehensive program to help ensure the early learners in their care are achiev­ing developmental goals and are able to reach their full potential as they grow. This training will discuss how to implement the curriculum, how to take data to track progress, and how to make sure that the curriculum is matching the child's IFSP/IEP.
Who should attend?
Early Intervention practitioners, Preschool special educators, anyone interested in learning more about this curriculum.
Thursday October 29, 2015
from 7:30 p.m. to 9:30 p.m.
Location:
Via GoToTraining
Online Training Services
Registration Links & Fees:
Consultants: $70
General Public: $110
in order to allow time to ship the book to the registrants.
Get In Touch

Sunny Days Corporate Location
300 Corporate Center Drive
Manalapan, NJ 07726-8700
800 - 891 - 3444 TOLL FREE
732 - 761 - 2550 FAX
732 - 761 - 0088 PHONE