It doesn't seem that long ago Joyce Salzberg and Donna Maher decided to revolutionize the EI community and create Sunny Days. Since its inception, Sunny Days has truly pioneered advancement for the treatment of children, the quality of work-life for dedicated practitioners, and service coordination and policies for communities at the state level.
Highlights from the past 20 years:
1994 :
Joyce Salzberg & Donna Maher founded Sunny Days
1998 :
Joyce Salzberg became a member of New Jersey SICC
1998 :
Karen Olanrewaju joined the Sunny Days team, currently serving as Program Director in NJ
2002 :
Sunny Days adopted initial and ongoing service coordination in NY under the direction of Program Director, David Salzberg
2003 :
Jerome Campbell joined Sunny Days as Program Director for PA and DE
2005 :
Cameron Stone joined Sunny Days as Program Director for CA
2005 :
Sunny Days introduced the Clinical Education Team to provide mentoring, training and clinical support
2008 :
Sunny Days began offering web-based training courses
2011 :
Sunny Days marked one million individual therapy sessions
2011 :
Lindsay Hilsen, BCBA, published her curriculum, A Step by Step Curriculum for Early Learners with Autism Spectrum Disorders.
2012 :
Sunny Days developed Virtual Intervention
2013 :
Sunny Days launched a pilot program in New Jersey for Virtual Intervention
2014 :
Sunny Days opened the Sunshine Center
We can't wait to see what the next 20 years has in store!


To commemorate our two decades of early intervention services, Sunny Days is hosting an Open House celebration. Please join us Thursday, May 15, 11am-3pm at our headquarters in Manalapan, NJ. We are preparing a fun-filled afternoon that includes a lineup of excellent guest speakers.
More details coming soon!
If you would like to attend, please RSVP by calling 800-891-3444.


There is a growing need and concern for autism awareness. Many professionals in the fields of Early Intervention and Special Education have been celebrating Autism Awareness since the 70's but spreading awareness has never been as important as it is today. A recent study found that 1 in every 66 children is living with a form of ASD. Twelve years ago, studies found 1 in every 150 children were living with ASD. As these numbers are bounding, so must our vigilance.



By Kathleen V. Flatley, MS, OTR
Clinical Educator, NJ Office
Birds are singing and flowers are budding. Signs of spring are everywhere. It's the perfect time to think about blooming and pruning, and not just in the garden! The early years of a child's development provide an opportunity to maximize brain development. The brain "blooms" by wiring new connections and "prunes" by getting rid of the connections that are not used. There is a lot we can do to help children bloom. In addition to providing good nutrition and healthcare we can recognize and respond to children's cues, promote positive emotional interactions and affection, model empathy and provide sensory rich, developmentally appropriate experiences. Don't miss these opportunities for new growth!
Here are some tips for helping children blossom:
Respond with empathy when your toddler wants something he can't have: "I can tell you really want to play outside again like we did yesterday. It was a lot of fun and I know you liked going on the swing, but it's raining today so we must stay inside. Let's try this game."
Take a walk and stop to smell the flowers. Point out animals, cars, people you meet, anything interesting you see. Older children can be on a "scavenger hunt" to find a blue car, someone on a bicycle, a fire hydrant, etc.
Your child is enjoying playing outside and starts to rub her eyes. You ask her if she would like to go down the slide one more time or go inside now. Giving her this choice helps her feel like she has some control and helps to support the transition.


New Jersey Speech & Hearing Association (NJSHA) Convention
This year, NJSHA has partnered with the New Jersey Academy of Audiology (NJAA) to include a fabulous audiology program. This two-day conference is packed with instructive sessions and guest speakers. We hope to see you there!
May 1-2, 2014
Ocean Place Resort and Spa, Long Branch, NJ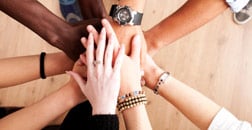 Those of you that have been with us know we are always looking to work with the brightest individuals in the field of EI. Do you know an Early Childhood Intervention professional that would be perfect for our team? If you refer an SLP, OT, or PT to us and they perform services, you may be eligible to receive a referral bonus. Currently, the referral program is only available in New Jersey. Contact us for more information.
For more information about all available job openings nationwide, please visit: http://www.sunnydays.com/careers




On January 6, we officially opened the Sunshine Center and have been offering speech and language, occupational, physical, and ABA therapies as well as performing evaluations and assessments. Our schedules are filling up and our group sessions, particularly our Mommy & Me groups, are a success!
If you have not yet visited the Sunshine Center, please stop by. We'd love to give you the grand tour! If any therapists are interested in joining the Sunshine Center team, please contact Judy Sloop.