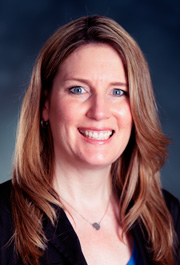 Kathleen V. Flatley, MS, OTR
Clinical Educator

Kathleen has over 16 years of experience in early intervention, providing direct service, evaluations, assessments and observations. She joined Sunny Days in 2006 and is responsible for ongoing mentoring, training and support/oversight of practitioners. She is also an adjunct instructor for an Occupational Therapy Assistant (OTA) program.
Her prior experience and training includes providing occupational therapy services in school and center based settings. She previously held the position of Community Advocacy Coordinator for a Center for Independent Living (CIL) for People with Disabilities where she helped advocate for people who have disabilities and monitored compliance with the provisions of the Americans with Disabilities Act. She also worked as an advocate for people who were trying to obtain Social Security Disability benefits, and was previously an American Heart Association certified Basic Life Support (BLS) Instructor.
She is the mother of two children who were born prematurely and received early intervention services. She has invented several products for the early childhood population including Munch and Match which is currently available in the Abilitations and Integrations catalogs. Kathleen holds a Master of Science degree from Dominican College.