News Articles
---
December 10, 2021:


During today's Holiday Party for our team, Joyce Salzberg shared this powerful message below, reflecting on the "here, now and future" to our team:



November 8, 2021:




We're proud to announce that the Oklahoma Board of Occupational Therapy has just approved two of our web-based trainings for Occupational Therapists in that state. These webinars will be presented live, starting in January 2022.

The titles are:

"Managing Challenging Behavior"

Author and presenter: Scott Rieger, Ma, NCC, BCBA

2.0 CEUs



"Cultural Competency in Telehealth"

Author and presenter: Carola d'Emery, PT, PhD

1.5 CEUs



More details to come. If you have questions, please contact:

Carola d'Emery, PT, PHD

Director of Training and Clinical Quality Assurance

Sunny Days, Inc

October 15, 2021:


Temple University, along with colleagues, family and friends, celebrated our co-CEO and co-Founder, Joyce K. Salzberg (CLA '69, SSW '79), for her generous commitment to the professional development of College of Liberal Arts students at Gladfelter Hall.


In honor of Joyce, below is the video that Temple University premiered at the celebration, "Joyce K. Salzberg's Journey to Giving."



October 1, 2021:


On Friday, October 15, 2021, from 1pm-3pm, Temple University will be honoring its alumna, Joyce Salzberg's, CLA '69, SSW '79, generous commitment to the professional development of College of Liberal Arts students.


Location:

Gladfelter Hall


RSVP:

jill.manning@temple.edu or 215-204-5449


Complimentary Parking available at:


Montgomery Parking Garage
1859 N. 11th Street (at the corner of 11th and Berks Streets)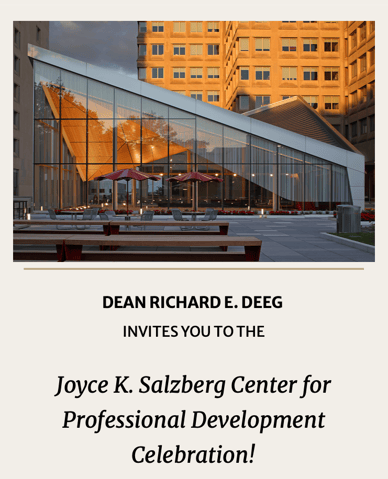 August 24, 2021:
Joyce Salzberg will be speaking at next month's Women Business Collaborative Summit, "Empowering Through Gender Equity & Diversity" on Sept 21st-22nd. Register here. #WBCSummit

May 25, 2021:


A special congrats to Joyce Salzberg, our Co-CEO and Co-Founder, who was asked last week to be on the Board of Advisors for Temple University's Feinstein Center for American Jewish History. This program gives students the chance "to develop professional skills, while learning about Jewish history and culture outside of a traditional classroom." You can learn more about the program here.
May 7, 2021:
"There are so many opportunities out there for Liberal Arts majors that are available to be explored. Many large corporations are hiring Liberal Arts majors and setting up training programs for them. And yes, even during a pandemic. Liberal Arts students are bright, creative and industrious, among many other traits. Future employers are recognizing this."

Honored as a Distinguished Alumnus of Temple University, our Co-Founder and Co-CEO, Joyce Salzberg, was asked to speak at the Virtual Commencement Ceremony for the Temple's College of Liberal Arts Class of 2021.

April 1, 2021:




Sunny Days, Inc., one of the nation's leading Early Intervention and Autism Services Providers, acquired

Gore Therapy Center

, a premier pediatric therapy clinic in Southwest Oklahoma that provides comprehensive speech, occupational, physical, and feeding therapy for children from birth through eighteen. Read more

here

.

Mar 24, 2021:
Honoring Women's History Month, Women Leadership Magazine USA asked our Co-CEO and Co-Founder, Joyce Salzberg, what women business leadership looks like in 2021 and beyond...



Mar 8, 2021:




We'd like to take a special moment to acknowledge International Women's Day

. As a business started by women, we hope to help inspire, and that our voice adds to the extended call to ALL women to use their greatest gifts and shine their brightest light to make a better world. Equality is for all.

Feb 2021:

In the upcoming March Issue of Women Leadership Magazine USA, the Women Business Collaborative will be saluting thirty of its members, and our Co-CEO and Co-Founder, Joyce Salzberg, will be one of those featured. Congratulations to Joyce and all members being featured next month, and a special thanks to Women Business Collaborative for this recognition.


Jan 2021: Joyce Salzberg, our Co-CEO and Co-Founder, is a member of C200 and part of their Champion Program that is "designed specifically for women of color-owned businesses seeking to hone their entrepreneurial leadership skills, grow their network, and gain resources to propel their businesses and professional growth." In the clip below, both the program and the youth development center that Joyce is mentoring was featured last month on Good Morning America. In the hopes to further foster their success, we're sharing their story here.



Dec 2020: Our Co-CEO and Co-Founder, Joyce Salzberg, is a member of C200, a powerful community of the most successful women in business, united in the purpose to help advance women's leadership in business. On December 13, 2020, C200 highlighted the impact she's made this year with some of her philanthropic work at her at her alma mater, Temple University in Philadelphia.

On November 10, 2020, our Co-CEO & Co-Founder, Joyce Salzberg, will be joining the WBC's important conversation regarding healthcare today and the impact the pandemic is having on women dropping out of the workforce. Hosted by the Women Business Collaborative, this group of Healthcare Leaders will discuss the impact more women leaders can potentially have on this industry, and how we can find more solutions for the challenges we currently face. Register here.


On October 5, 2020, we completed our very first *closed captioned* webinar focused on behavioral matters for an agency in another state, hosted by Scott Rieger, MA, NCC, BCBA. This was not only a first for us, but also a first for New Jersey Early Intervention. If you are a practitioner or family member in need of this additional support, please reach out to Johanna Salsano at jsalsano@sunnydays.com

As a business started by women to help children with disabilities, we're accustomed to fighting for change. As we find ourselves in the midst of a historical moment culturally, know we are dedicated to increasing representation for people of all backgrounds in our industry. In an effort to support those who are currently underrepresented in Early Intervention and ABA Therapy, we ask our extended social media family for your help. Any applicants or organizations that would like to work and/or partner with us, aligned in this need for meaningful change, please contact Jazmine Mathis at jmathis@sunnydays.com

Congratulations to our Co-CEO and Co-Founder, Joyce Salzberg, who was just appointed Chair of New Jersey's State Interagency Coordinating Council (SICC). Joyce is the longest-serving member of the SICC, and was originally appointed by the Governor of New Jersey. The SICC creates a forum for the entire early intervention community to share ideas and assist in improving the services offered to young children with disabilities. In Joyce's 40 plus years of experience in the fields of healthcare and developmental disabilities, the SICC has played a crucial part in supporting the ongoing development of quality services for young children and families, and Joyce is excited to continue this legacy in her new role.

Statement from Joyce Salzberg, Co-CEO & Co-Founder, Sunny Days, Inc.:

"For over thirty years, my business partner, Donna Maher, and I have been advocating for families of children with disabilities. Finding the words to express our anger and frustration regarding the brutal murder of George Floyd, and the ongoing racism against Black lives in this country, has been one of our hardest tasks. Now is the time for deep listening and for crucial dialogues within corporate environments and beyond. We want effective action that will bring justice and meaningful change for Black children and families.

Know we are standing, listening—and learning with you." #BlackLivesMatter

COVID-19 Update:

Sunshine Center Locations Reopen With New Procedures In Place.

Congratulations Bridget, Dianne and Susan! You have a wonderful reputation in Philadelphia as a strong early interventionists and each of you has been recognized by Sunny Days and IDS to help enact change. Bridget has been chosen to participate in Project ImPACT, a research grant funded by the Eagles Autism Challenge. This grant will study evidence-based practices to serve and support children diagnosed, or at high risk, of autism or ASD. Since the study was only taking on special instructors Dianne Lamastra, DPT, and Susan Poussart, CCC-SLP, have been chosen to participate in the state's coaching grant. As leaders in Philadelphia early intervention they will mentor others to use coaching interactions during visits to help parents develop their abilities to interact and support their child's development.

Joyce Salzberg, Co-CEO, spoke for the Women's Business Collaborative on May 14, 2020 at 2pm on the topic of "Philanthropy In the Time of COVID-19".

Temple University Names the Joyce K. Salzberg Center for Professional Development

Joyce K. Salzberg, CLA '69, SSW '79, an alumna with a long history of giving back to Temple University, is supporting a professional development center within the College of Liberal Arts (CLA) with a major naming gift.

To honor Salzberg's exceptional commitment to the college and its students, the center will be renamed the Joyce K. Salzberg Center for Professional Development. Currently located in Paley Hall, the center will move to a new space in Gladfelter Hall in fall 2020.

M & T Bank New Jersey Women's Interest Network Women Leading in the 21st Century

Co-CEO of Sunny Days Inc. - Joyce is a recognized leader and innovator in early intervention with over 40 years of experience in the fields of healthcare and developmental disabilities. She is the longest-serving member of New Jersey's State lnteragency Coordinating Council (SICC). Joyce co-founded Sunny Days with Donna Maher in 1994 and is jointly responsible for overseeing all operations of the agency. Sunny Days Inc. is one of the nation's leading early intervention providers, serving children with developmental needs. In addition, Ms. Salzberg has served on numerous charitable boards, oversight committees, and industry advocacy groups.

Temple University College of Liberal Arts Discussion panel about inequality in the workforce

Joyce Salzberg, Co-founder of Sunny Days Early Childhood Development Services, recently participated in a panel discussion, at Temple University, about the topic of gender and equality in the workplace. You can read more about it by following the link below.
Sunny Days Newsletters
---
2017
2016
2015
2014
2013