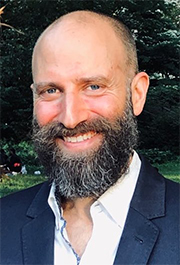 David Schulman
Director of Marketing

David has over 19 years of experience as a creative executive, producing marketing materials across digital and print platforms in a variety of industries, from entertainment to medical education.
Prior to leading Sunny Days' marketing department, Mr. Schulman spent almost a decade prior focused on marketing specific to education, rebranding and redesigning websites, directing an award-winning video, building out apps, and co-founding and producing a podcast. His multi-disciplinary background includes traditional and non-interruptive content-driven marketing. Prior, David directed, edited and supervised post-production for a number of corporate videos, working with companies such as McGraw-Hill and Pfizer.
David has a Bachelor of Fine Arts from Rutgers University, Mason Gross School of the Arts.