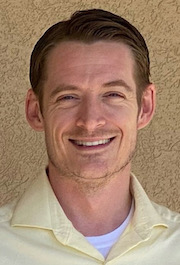 Jared Stokes
Clinic Director

Jared Stokes has served as Clinic Director for our location in Lawton, Oklahoma since its acquisition on April 1, 2021. Previously, he served as the Clinic Coordinator for Gore Therapy Center and led the transition of Gore Therapy Center to a Sunny Days Sunshine Center, ensuring the transition went smoothly for staff and families. Additionally, Mr. Stokes recently led the efforts in Oklahoma to start ABA therapy services allowing us to better meet the needs of our patients in the Lawton/ Ft. Sill area.
Jared has over 20 years of leadership experience spanning from call centers to medical operations. The focus of his career has been on strategic team building by managing change and successfully solving external and internal conflicts within the workplace. His unique experience as a parent, previous professional experience and passion for excellent patient care have made him uniquely qualified for his role as Clinic Director.

Mr. Stokes earned a Bachelor of Science in Biology and an MBA from Cameron University where he received several awards for his research and public speaking skills.

He said that one of the best parts of his job is being able to lead a team of professionals that directly improve the lives of children and their families. Jared enjoys spending time outdoors and in his free time can be found near water, traveling to obscure destinations or in a hammock with his dog Aurora.