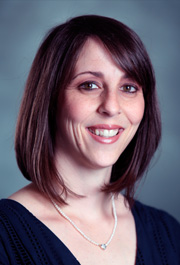 Dr. Lindsay Hilsen
Sunshine Center Director / CCO

As Director of the Sunny Days Sunshine Center, Inc., Dr. Lindsay Hilsen brings over 15 years of experience with early childhood intervention and autism to the position. Previously, she worked as the Sunshine Center's Autism Coordinator and the Autism Clinical Educator for Sunny Days Early Childhood Developmental Services, Inc.
Among the many duties involved with running the Sunshine Center, Lindsay supervises all ABA practitioners and therapists, conducts all ABA evaluations, handles insurance and billing, coordinates social skills groups, and trains and supervises BCBA candidates. She is dedicated to training other specialists properly.
Lindsay received her Doctorate in Special Education through Nova Southeastern University. She is a Board Certified Behavior Analyst at the doctoral level (BCBA-D) who holds two masters in Special Education and Education, as well as a certified NJ special education teacher and elementary education teacher. She is also the author of two Autism Curriculums: A Step-By-Step Curriculum for Early Learners with an Autism Spectrum Disorder and A Step-By-Step ABA Curriculum for Young Learners (ages 3-10) with Autism Spectrum Disorders.
Ever since she was old enough to volunteer, Lindsay has had a passion for the field of special education. She believes that all children can make progress, regardless of their different abilities and styles of learning, and seeing that progress is her favorite part of her job. Because Lindsay's oldest daughter has single-sided deafness, she knows firsthand that each and every child is capable and can overcome any challenge.